ONLINE GIFT SHOP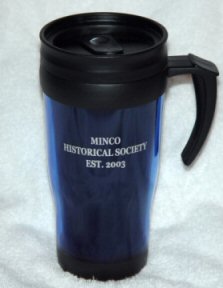 (measures 6 3/4 X 3 1/4)
Commemorative Cup
"MINCO HISTORICAL SOCIETY,
ESTABLISHED 2003"
Price: $4.00
available from 1st National Bank or Minco Community Center.
Cups will also be available at the Minco Honey Festival Dec 3, 2005
at the Historical Society Exhibit in City Hall.

Also available by mail for $4.00 plus actual shipping cost.
For details, contact Virginia Hayes, DrsNeeNee@aol.com
Note: This is a fund raiser to go towards building or acquiring a home for our future museum.