Silver City
Silver City was a town seven miles east of Minco, and the Chisholm
Trail went right through the center. However, in 1892 its fate was doomed
when the new railroad was built to Minco 6 miles west instead, and the new
destination for the great cattle drives of the southwest was Minco's large
stockyards for train shipment north. The townspeople of Silver City moved
every building to Minco to enjoy the prosperity there.
In mid-May 2003, the Minco Historical Society paid a visit to the
Silver City cemetery, a tranquil fenced in area on top of a hill overlooking
pasture and crop lands, with the South Canadian River to the north.


(scroll right) Front row, L to R: LaVerne Hines, Dylan Hayes, Virginia Hayes, G. W. Ross, Divieu Brown, Mrs. G. W. Ross (back row), Bill Brown, Marvin "Woody" Woodworth (back), Bill Ocker, and Rory Faulkner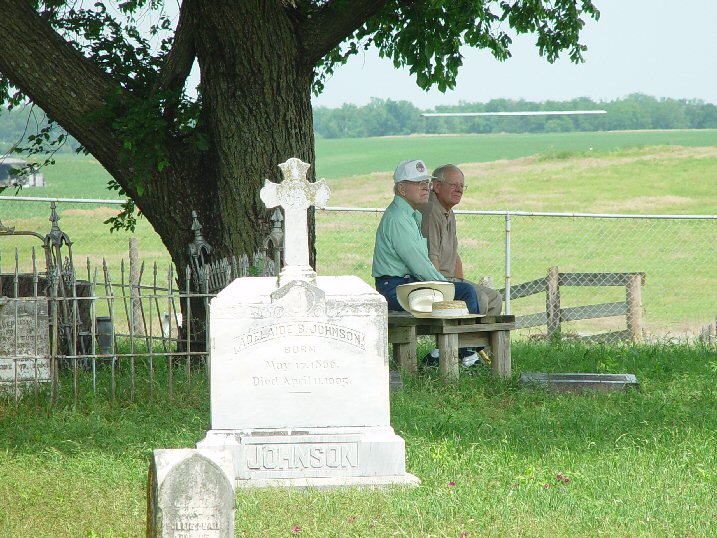 G. W. Ross (with ball cap), caretaker of Silver City Cemetery
Here is a listing of those buried in Silver City: http://www.rootsweb.com/~okgs/silver_city_cem_grady_co.htm
---
A map was drawn by former Silver City resident, Mr. Malcom, showing the locations of Silver City features.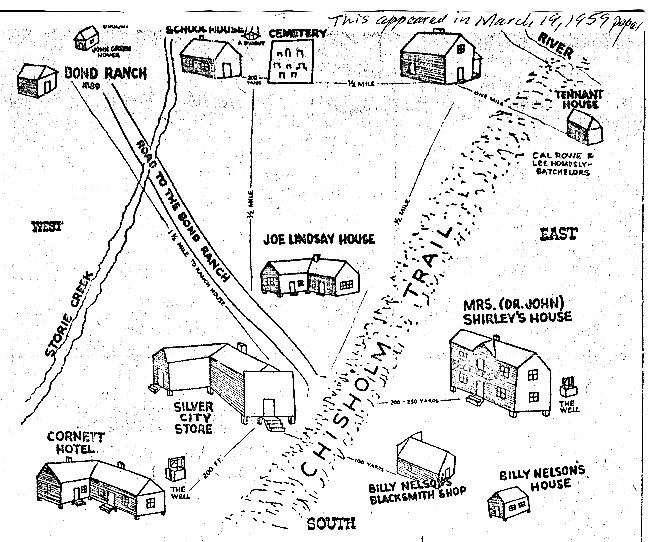 .
All town buildings were moved to Minco. The school house on the above map was moved to where
the Huber-Reynolds Funeral Home is now.
---